What brought you to the Netherlands?
I came to the Netherlands via my husband, who is half Dutch and half Maltese. We were living together in München, where I was the principal second violin player in the Bavarian Radio Symphony Orchestra. After about ten years, I felt the need for a change. On top of that, at some point, we had to buy lederhosen for our child, who was four back then and was attending a kindergarten in München, and we had to go with him to the Oktoberfest. With all due respect for the Bavarians' sense of pride in their Oktoberfest, I just couldn't imagine our child growing up speaking this Bavarian dialect and wearing lederhosen. So we decided to move to the Netherlands.
In other words, the Netherlands was not your first experience abroad.
My first experience was in Germany. I arrived in Berlin in 1990. I didn't know the language. In fact, the only thing I knew about Germany was from the movie The Great Dictator, when Charlie Chaplin was giving a speech in front of the microphones and said Wiener schnitzel. That was about all I knew in German.
In the beginning of August, 1990, I went together with the George Enescu High School orchestra to a youth orchestra festival organized in Germany. We went by train, it was splendid. I was in the ninth grade, for the first time in the West, together with my classmates. After 36 hours, we reached our destination and we lodged in a hostel. There, I received a phone call from one of my parents' friends, whom I had seen twice only, at most, in my entire life. He was a pianist and he lived in Berlin. He told me: "I just spoke to your parents, I'm coming to pick you up." I had the shock of my life. My parents had given me $50, which I used to give them a call. My father told me that he had to give me a chance in life, not only as a musician, but also as a person. I couldn't believe they let me go. All of a sudden I was alone at 15. I didn't speak German and I was responsible for everything: school, food, study. I felt very lonely the first six months.
Are you thankful now to your parents for the decision they made back then?
Definitely, definitely! I'm convinced that, just like with any other experience, regardless of how bad it may be, at a certain point you realize that things will turn out for the better. When you are somewhere very, very low, in the darkness, and you no longer see any doors, at a certain point you will realize that it was all for the better. This experience has shaped me. Of course, difficult, serious, critical situations could have happened to a 15 year old girl who is alone in her studio apartment. But it was precisely because I had all the freedom in the world to do any foolish thing that I didn't do any!
When I got to Berlin, I had to sit an exam at the French high school. I didn't know French that well, but as a Romanian, you can float through this language. I finished my last three years of school at the French high school. In parallel, I was a so-called jung studente at the what used to be back then the Hochschule der Künste (currently the University of Arts, ed.) in Berlin. Later, I began to study at the Conservatory in Berlin. During my studies, I needed money, of course, so I began to play in orchestras and that all culminated with me receiving a scholarship at the Berlin State Opera, which was founded by Daniel Barenboim. I was the first generation that graduated from the Academy. After two years, I received my first job, as a principal player, at the Hamburg State Opera House, where I met the one who would become my husband. He was the conductor of the orchestra.
How was it to transition from Romania to Germany and the Netherlands?
In the beginning, I felt very good in Germany, I adapted very quickly, I learned the language, I found my spot pretty fast. But the years go by and your personality changes. So did my priorities, especially as a musician. Even in an orchestra as the Bavarian Radio Symphony, one of the best in the world, even there you feel a certain pressure, I'd say, to be in a certain way, to behave, and to play in a certain way. Due to the fact that my partner is half Dutch and half Maltese, I began to see other cultures as well, other orchestras, other ways of being. I began to feel cornered, that whenever I was in the orchestra, I was actually someone else. It was then that I felt the need for a change, maybe it was some sort of an early midlife crisis. I felt the need to live my life the way I am and not as others see fit or how others perceive me.
Can it be said, then, that coming to the Netherlands was an act of emancipation?
Absolutely. I truly felt liberated from so many constraints, no only from the orchestra, but also from society. My husband has many friends in Wassenaar, where we live now, so we already knew many Dutch people, which meant the transition wasn't all that sudden. Our child had already befriended our friends' children, we came into a society which we already knew, somehow. The German society is very traditional, everything revolves around principles. These are also important, especially nowadays, I find it important to have roots, to have a value system that still matters in your daily life. But they all have the tendency to pull you down. You feel the pressure of society.
In the Netherlands, I have the feeling you can enjoy greater freedom, you are accepted as you are. The people that I met – because I can't generalize, obviously –, are extremely positive, tolerant, and creative. I think in Germany, because of this pressure due to traditions and values, there is less creativity – at least in the cultural field – than here in the Netherlands. Here, there's nothing that you get automatically, that is guaranteed in the cultural world. That's why you have to think about who you are, how you can contribute with something new, how you can create something new. It was exactly this idea that liberated me. I played for 15 years in different orchestras and, even though I was a principal player, so I had a responsibility, I still felt like no more than a number among many others. You're not the one responsible for what you play, you are being told what your schedule is. You're not the one responsible for the artistic vision, you are but a number that has to do precisely as told. Just like in any other institution. When I came to the Netherlands, all of a sudden I was no longer the principal player of the Bavarian Radio Symphony Orchestra. Who am I? What can I give, what can I do? It was an extremely important aspect and I am very pleased and happy that I had this luxury, that I was given this luxury of being able to choose.
It is an act of emancipation, but there is also the pressure to discover who you are.
Yes, of course, because there's a chance that you'll discover that you don't have anything to say. If it's not clear, there's still hope, but if you don't have anything to say, it's very sad. Fortunately, I didn't reach such a conclusion. Every day I realize that I can go even further, that there are even more dormant things inside me and I have to activate them. And I enjoy that. Ever since I came to the Netherlands, I have the feeling I'm alive, obviously with ups and downs, ranging from Mt. Everest to the Mariana Trench. This is the creative life. In fact, this is life, which should be creative! Eventually, you think: "What is my role in this life, why am I here?"
In this context, the International Chamber Music Festival in Wassenaar fits you like a glove.
It's precisely what I wanted to do. My festival had become my creative expression. In fact, it's my baby and I'm very happy to see it growing. Children's musical education is a very important factor to me. The only disadvantage in the Netherlands – a major one, as far as I'm concerned –, is the highly pragmatic education in schools. The children grow freely, very sure of themselves, they're very open, but exactly that which seemed too much in Germany is what I miss a little in the Netherlands. I'm talking about values and respect towards culture and history. For instance, children in a town like Wassenaar don't even know that Rembrandt was born within a stone's throw from this place, I think they don't even know when Rembrandt lived, not to mention the great classics of world literature.
Every year I have a project with the schools in Wassenaar. I meet with approximately 500 children aged 6 to 12. This year, I asked them to write a story based on the music of the Carnival of the Animals by Saint-Saëns. There are 14 very short pieces and each is dedicated to an animal or a group of animals. I listened together with the children to a couple of pieces and now I'm curious what kind of stories I will receive. The stories have to be full of humor, positive, they must have a happy ending and the animal has to do a good deed. Positive, constructive, noble: the principles of the Wassenaar festival!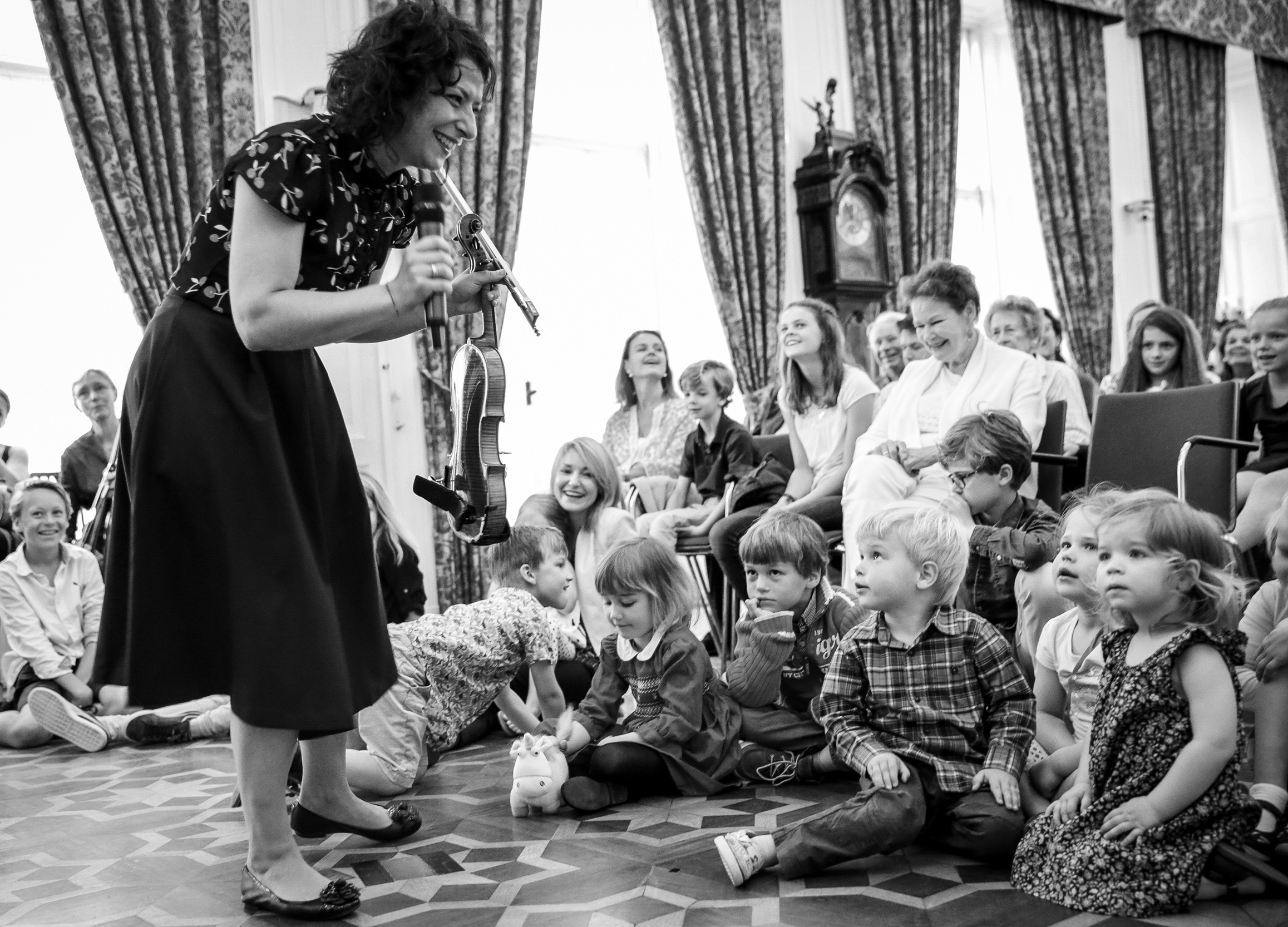 Is this the project closest to your heart?
Absolutely, this is who I am. When you begin a project like this one, you learn as you go, you're not born as the artistic director of a festival. You have an idea that's growing. I began with one concert ten years ago, and now we have five concerts and a symposium – this year about musicality, every year we have a different topic.
What does success mean to you?
I think the idea of success changes with age. When I was studying at the George Enescu high school in Bucharest, success meant how many awards I got and if I passed the finals as the first, second, or third. When I was in Germany, success meant to have as good a position as possible in the orchestra and I can say I managed that. I play with great pleasure second violin in the orchestra and I'm happy I can do this, because it's not very easy, but also because others thought that I can do it better. Here, in the Netherlands, I don't know if I'm successful, but I'm happy to be alive, I'm happy I can share this joy with others. If this is success, then so be it. To be able to live your life the way you see fit, I think this is now my success formula. But ask me again in twenty years, maybe then I'll think differently!
What kind of a relationship do you have with the Romanian community in the Netherlands?
I must say that I don't have such tight connections with the Romanian community. In fact, I feel that I am a citizen of the world, because I've lived in Germany, now I'm in the Netherlands, as a musician I play together with other musicians of various nationalities, I'll be in Spain for a week, another in Finland, so I feel extremely open in every direction. But I'm happy that, at least every now and then, I meet also with other Romanians in the Netherlands. They are, however, connections that aren't formal, they're personal and made by chance.
And one more thing. When I arrived in Germany, I tried to adapt as well as I could to that society. After about five or six years, I became a sort of a mini German citizen. Ever since I've been in the Netherlands, I realized where I come from, what my roots are. The fact that I am the way I am is a consequence of my character, of my personality as a Romanian. The Netherlands allows me to be the way I am. Here, I've rediscovered who I am, how rich or how poor I am. And I am the sum of all the experiences I had in Romania, Germany, and all the way to the Netherlands.
What would you advise a Romanian who would like to come to the Netherlands now?
I would say they should pack and bring along their own personality, they should know who they are, what their strengths and weaknesses are, they shouldn't wait for something to be given to them, instead they should personally go and do that.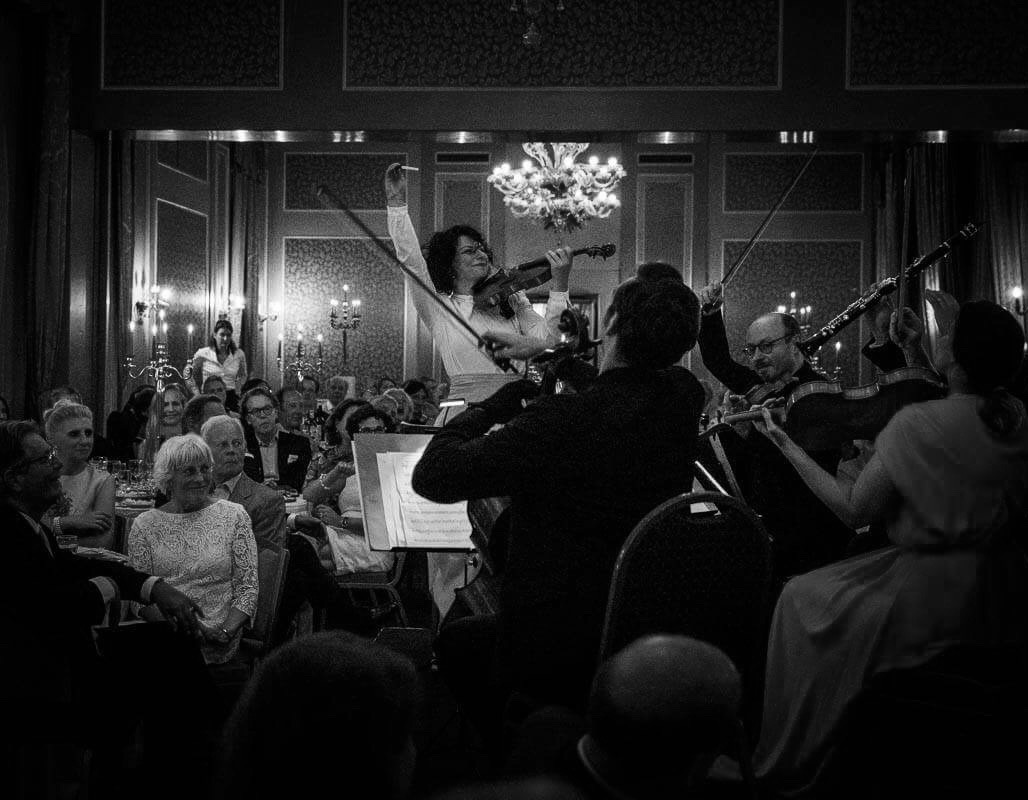 Interview by Claudia Marcu and Alexandru Iosup
translation by Mihaela Nita
photos from the personal archive, taken by Claudine Grin www.artportrait.fr
Photo-portrait by Cristian Călin –  www.cristiancalin.video