How did you make it to the Netherlands?
I arrived here under the name of Anca Dabija, in other words, I was not yet married. Actually, when I left Romania, I didn't know I would get to the Netherlands. I arrived here via France. I had the big chance to get the permission to leave my country so as to honour the invitation of Serge Moscovici, a social psychology professor and a personality in France, who left Braila when he was 19. He granted two scholarships – one for the Institute of Psychology of the Romanian Academy and another one for the Psycholinguistics Laboratory of the University of Bucharest, where I used to work at that time, under the coordination of a well-known professor in the West: Tatiana Slama-Cazacu. Well, this lady, who managed the two scholarships, offered me one and the other to one of my colleagues – Aurora Perju – today Liiceanu. The scholarship came in 1971 but I managed to leave the country only in 1973. Why was it so difficult to leave? Because I was alone, single, and very young.
In 1973, I had already 7 years of work. I had a fast progress because my parents put me in school when I was six so I skipped directly to the 8th grade. I graduated earlier, I started faculty before I turned 18, so I was an early starter on the labour market. This does not mean it was all easy or that everything was taken for granted. I learned a lot but, socially, I was an outcast because my father was a doctor and my mother studied law and economics and she was pushed aside with the reform of education. In other words, my origins were unhealthy.
Admission to faculty was just as difficult given that there were only 12 places available. I wasn't on the list of admitted students from the very beginning. Only after I requested to see my grades of all my tests did they recognize that they had made a mistake. For writing, I had only 10 which made me then realise that my results for Romanian (the oral test) had been manipulated. So I ended up on the 13th place. Much later, I found out, indirectly, about all the strings being pulled from a professor from the Faculty of Letters.
I did everything that was in my power but, in life, there are several other factors that you cannot control, especially in Romania of those years. I graduated faculty in 1966, at the top of my class, and had, therefore, the right to choose my job. I chose research at the Institute of Psychology of the Romanian Academy. There, I met Tatiana Slama-Cazacu who was leading a completely new department: psychology of language. It wasn't something I fancied but I decided to choose something that would have a future in it. I am not sorry for having made that choice.
In other words, I came from Romania well trained, actually very well trained. My biggest luck was that I had a research career at the Institute and published a lot. I left Romania with my head high and full of confidence. I went to France to complete my studies of social psychology at the Laboratory led by professor Moscovici and would return to get on with my life in Bucharest and conclude my PhD – I already did all my exams and presented my three research papers, the only thing left was my dissertation.
Meanwhile, personally, something happened. I had known Radu Manoliu back in Romania but we had never planned for marriage. We just liked each other. He told me he would leave for the Netherlands and I expected that he would come back. Six months passed by, then one year, I only got a few letters from him until it dawned on me that he would never come back. We met in Paris, I visited him once in the Netherlands, and we decided to spend the rest of our lives together. This happened in September 1973. More exactly, on September 13, 1973, in Leiden.
Looks like 13 had a significance in your life.
Absolutely! But I've never been superstitious. We got married in Leiden, without our families with us, surrounded by very friendly people, with Dutch among them, who knew my husband. I recall that moment with deep joy in my heart! On September 15, we did also the religious ceremony, at the Romanian Church in Paris.
How was the beginning in the Netherlands for you?
It meant adapting to living in a new country and to life in two. None of us had had this experience of living together. My husband was a big support for me, helping me out with what I needed to do to learn Dutch fast; he also bought me a bike so as I would adapt to the Dutch lifestyle. He did all he could.
We had to get more familiar with each other, mutually adapt; we were two people with strong personalities, both born in April.
From the first moment we decided to get married, I expressed my wish to have a job. My husband understood this very well and he said: "Well, my dear, no matter whether you have the luck to find a job here related to what you know or not, I'll always be there for you." A very positive attitude that helped me guide my career in psychology.
My luck was that I started this new life in a university city, in Leiden. If I had been in Heiloo (current residence), it would have been, for sure, more challenging and my progress would have been different.
It happened that, during various congresses and publication work, I got acquainted with an Italian, professor of cognitive psychology, who was leading the psychology department of the University of Leiden. So, I had the chance to run a seminar, as a volunteer, on the psychology of reading, based on a very popular book at that time, The Psychology of Reading of Gibson (Eleanor Gibson, American psychologist). I did volunteer work for a couple of years until a vacancy came up at the University of Utrecht, a vacancy on a job related to research and instruction that I thought would fit me well. Part-time. The head of the department, professor Carel van Parreren, was eager to hire somebody that was familiar with the Soviet psychology of learning. I had that in my backpack, so to speak, given that, at the faculty, I continued to study Russian with the precise purpose to be able to read Russian specialised literature that turned out to be highly appreciated even in the Netherlands. Moreover, I had access to the most important magazines and books of Western and American psychology during my employment at the Institute of Psychology.
Romania was, back then, very far away from the European Union. How were your studies recognised?
Well, it was only because I had my publication work, having collaborated with Tatiana Slama-Cazacu and having been granted the Paris scholarship. I put all those documents in a folder and sent a letter to the Dutch Association of Psychologists in Amsterdam. In their turn, the Association sent my folder forward to Nuffic (Dutch Organisation for Internationalisation of Education) and, after a while, I had my doctorandus title acknowledged. So, I started to work in Utrecht, in 1978. I am forever grateful to my professor who trusted me and hired me.
How did you adapt to the Netherlands?
At the beginning, when I arrived in Leiden, I lived in a charming place, on a beautiful street, in a house rented by well-known people in town. We felt excellent there. We cooked, invited friends for dinner, and had the most beautiful set of silverware ever in my life – we could use, carefully, their silverware. The first thing I did when I left Paris was to write down Romanian recipes of a friend of my mother since, we all know, that love for Romanians goes more often than not through one's stomach. I envy a little the Romanian women with Dutch partners who ask for nothing and are absolutely happy with anything they are served. This was the mentality in those days; now, the situation has changed dramatically. Still, there is a fine dining culture.
We had the luck to be surrounded by people we were equal with from the very beginning. Our friendships in Leiden, at the university or from the European Spatial Agency in Noordwijk helped us understand that we lived in a world where you have Dutch, on one hand, and French, Italian, English and other nationalities, on the other hand, all with the desire to work in an international centre and to return to their home countries.
For us, nevertheless, there was no way back home so we used all our chances to learn the language and to get integrated, without being assimilated. Meanwhile, in Romania, I was put on the black list by the Security Service due to the fact that I didn't return to my country and my job. There was a trial in 1974, in my absence, and a subpoena was issued for my parents to attend. I was considered a country traitor. I was condemned for 6 years in prison and 10 years forbidden to enter the country.
If I had been alone, I would have never stayed here. I didn't have this idea to leave my home country because I was attached in many ways to my parents. So here we get to talk about our roots. My parents were both from families well rooted. My grandparents were mentioned in various monographies in the years 2000 – monographies about my grandfather on my mother's side, a construction engineer who built schools, roads, and churches. Shortly, I was strongly rooted.
How do you look back on all these years?
Now, in August (2018), it's been 45 years since I first set foot here. It was the most active period of my life. In Romania, I worked 7 years but the most beautiful events of my life happened here: marriage, the birth of my children, in 1975 and 1981.
Apart from the first months when everything seemed like an extended holiday, everything started to follow a pattern, starting with learning the language. I attended psychology and language courses in Leiden just to listen to Dutch and to realise to what extent language could be an obstacle for me in relation to a content I had already known.
There were several Romanians who were already settled in the Netherlands and who kept us good company and shared advice with us – similar to what RomPro (Foundation for Romanians in Romania) does nowadays. The only difference is that, back then, nothing was organised. We were also supported by Dutch people who used to work with Shell (in Romania) and who had a big love for Romania, a rich country with hospitable people. So, we enjoyed the support and love of these people as well.
Of course, regrets are present as in not seeing your dear one often enough, missing them during holidays and replacing them with your friends who, in the meantime, become your family. But, it may just as well be that our children have the same regrets these days.
All these years I've been mostly concerned by raising my children, offer them an education that is similar with what I had: piano and French lessons, in their pre-school years. This led to logistics-related issues: who should babysit the children, how to bring them to school when I had my commute to Utrecht and so on. At that time, women in the Netherlands did not work that much, they stayed home to take care of the children despite their university education. Well, I didn't want such a thing, I wanted to work. A job at the university implies an ongoing training. It may have been easier had I had a psychology practice or become a functionary. University demands ongoing training. So, there moments of stress in my family. Sometimes, my oldest daughter used to tell me: "Well, I'm not going to tell you this story because you're not home when I return from school to drink our tea together." After such a comment, I tried as hard as I could to find her a mother surrogate when she got home. She helped me enormously: at 10, she was like a mother for her little sister.
Then, at the university I had to prove myself. And survive the reorganisations of the system. That period was one where I learned how to stand up when I fell. Glory doesn't mean to never fall, says a Chinese proverb, but to be able to stand up when you fall.
No doubt, I brought my job disappointments home. Many times, my drive back home from Utrecht, in my car, was very useful: I listened to the radio and could cry, let go of my emotions so that when I reach home I'm in a better shape. My father always left his problems at the door; I have never seen my father in a bad mood, only with a smile on his face. I tried to do the same but my children and husband saw me sad as well.
Looking back, I can say that I wasn't focused on a career, in the Romanian sense of the term, but I kept going and had the joy to work outside my home and face stereotypes.
I was interested, all these years, about the situation in Romania. I didn't live in Romania but I lived close to it. At a certain moment, my amnesty was issued but I didn't go visit Romania instantly. I had the luck that my parents came to visit me, together with my mother-in-law, with major interventions, of course. They helped us raise our children, especially by talking Romanian with them; I wanted very much that my girls would speak Romanian. Anyways, I always kept my interest on Romania. After 2000, I consulted the archives of the Security and found my file with many alterations in it; I managed to get also a digital copy.
During the 80's, very difficult years for the Romanian people, I had lists of people who had a hard life and whom I helped, together with Dutch people. Every family was "adopted" by a Dutch family; help would come through the parcels sent regularly. I asked for help at the local newspaper so as to find families that would want to help. Later, after 1989, we organised humanitarian convoys to the villages of Moldova – the family of my husband was originally from the Dolhasca area -, all organised from our village. All those people stayed in contact with the people in Romania whom they later visited and became friends with. I had then the hope that the image of Romania will grow beautifully because it would no longer be dependent on the newspaper information, always incomplete. The situation changed slightly around '95 when some very good press correspondents, such as Olaf Tempelman from Volkskrant, started to write also positive articles on Romania.
I thought that, due to hundreds of associations, foundations, twin city initiatives between Romania and the Netherlands, everything would turn out great and the Dutch would make their own convictions about Romanians. But I never thought that the bad word-of-mouth was not totally to blame on the foreign press but also on the way Romanians behave in the world.
I started to get more familiar with these less positive aspects when I became a volunteer for an Amsterdam-based organisation, called AMOC. This organisation, originally founded in Germany, aimed at controlling drugs in a country that was considered a drugs paradise ever since the '60's. After the '90's, more help was being provided also to other nationalities, including Romanians. It is true that I have never met Romanians who did drugs or were attracted to drugs but I did meet people who became victims of human trafficking and prostitution networks. So I became familiar with an aspect that opened my eyes about the hypocrisy of the world we live in.
To conclude, most part of my life happened in the Netherlands: getting married, giving birth to two girls – Irina and Maria, leading a professional life who has brought so many satisfactions, my retirement and becoming a grandmother. I can say I have a fulfilled life.
I still have one big regret: I am no longer young enough to be able to share with my grandchildren the beauty of the Romanian language and culture, to talk to them about the roots of their grandparents.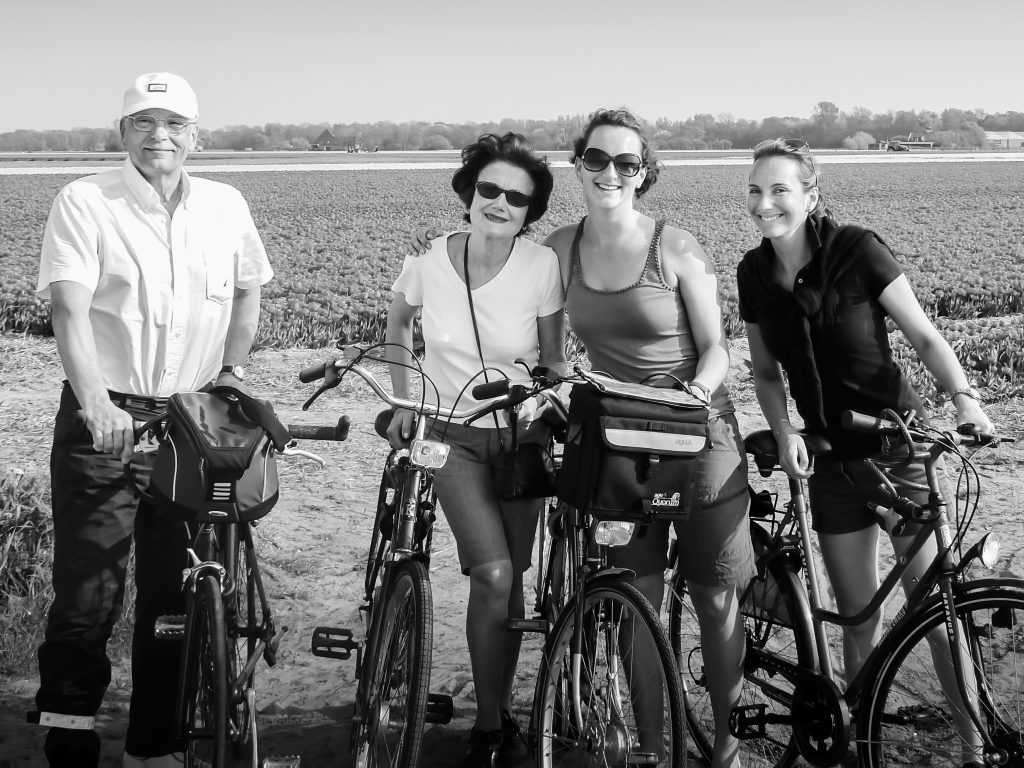 How do you feel in the society where you're currently living?
Very well. I have the feeling it suits me perfectly. In 1968, I was in a trip by train through Europe – Vienna, Amsterdam, Paris, Nice, Lausanne, and back to Bucharest. When I returned, my mother asked me: "Well, my dear, if you were to think about it, where would you like to live?" I instantly replied the Netherlands or Switzerland. What did I like about the Netherlands? I would ride in wonderful trams from the Central Station in Amsterdam to RAI (centre for fairs and exhibitions) to join congresses. They were orderly and clean. In Vondelpark, I found myself not in a common park, as in Romania, but a park full of hippies, dirty and long-haired but, despite this, I was conquered by an air of tolerance and freedom. In Switzerland, I found discipline, structure, mountains I adore – and miss – but I believe that my choice for the Netherlands is just great.
I admire the willingness of Dutch people to help and volunteer. You cannot cover all needs of society only through paid labour. I started volunteering some time ago and I keep going. When I joined that Amsterdam-based volunteer organisation, my daughters used to tell me: "Mom, finally, you do something useful." Experimental psychology in the lab and even some experiments at school were less interesting for my daughters than the contact with the world of drugs and prostitution.
I also like how Dutch organise their time. When I came here, everybody had an agenda. Our first invitation in the house of some Dutch friends came on our wedding anniversary date, September 13. It was an invite for February 14: "Would you like to join us for dinner?" And what a pleasant surprise, when a Dutch friend would show up, spontaneously, for a visit!
It is here where I have learned that a child needs to get familiar with the value of money – pocket money, zakgeld – that parents grant to him/her for small chores he/she needs to do around the house and, from a certain age, outside of the house, such as newspaper delivery.
I admire that people make music and there are cultural activities in any village. I also admire the capacity to debate without being aggressive, which I miss in Romania. Namely, not "You shut up! I know better!" We need to unlearn this. Such a change can be only brought by those who may want to return to Romania and get actively involved in politics and be given the space to do that. This "You shut up!" shows its ugly head at all levels.
Yes, I feel I have well adapted but, at the same time, I have kept the beauty of my culture and the faith of the Romanian people and made them known also to my Dutch friends.
What is success to you?
It doesn't exist for me. I accept it in others and I say "That is a successful person" but I, personally, do not practice it. I believe you need to be happy with how you are, have the feeling you are accomplished by and in your work and family life, accomplishment that should be acknowledged also by the others.
I see that the new generation is pumped, as early as three-four years old, with the desire to be on tv, to be The Voice. Would you like, you as a parent, that your daughter or son become famous, hoping that you would become famous through him/her? This only shows how wrong our current society is. We are exposed to shows that promote the desire for success. This desire should be the result of a good school and development of a wide variety of skills. It means to give your child the opportunity to study but not to feed him/her daily with this idea of success.
What's your relation to the Romanian expat community in the Netherlands?
Nowadays, this community is much bigger than it used to be when we got here when, to be honest, also acceptance by the Dutch society was more permissive.
In all those years when I didn't have any contact with the Romanian Embassy (in The Hague), I supported all initiatives being launched such as creating the Roemenië Comité by Sorin Alexandrescu, Jan Willem Bos, my husband, and others. I also did actively protest against the communist regime. After 1989, I supported the creation of the Monica Savulescu (writer) Foundation, The Romanian-Dutch Foundation, founded only from our desire to make the Romanian science and culture known to the Dutch. Later, there was another foundation created by Andreea Teunissen, Carmen Sylva Foundation, that took over some of our cultural objectives.
Currently, the situation is different. The creation of RomPro (Foundation of Romanians for Romanians) meets a real need, namely to help those who come to the Netherlands to build a new life. I continue to have an open-minded attitude. I was asked by the Embassy for my support and I happily offered it in the dramatic case of Colectiv, when some of the injured were brought to hospitals in the Netherlands. It was also about an emotional support to their families. For instance, I am still in contact with the mother of the only survivor of the band.
Romanians have the chance to meet and exchange information and support in all the activities organised by RomPro or by the Romanian Church in Schiedam.
What's your advice for Romanians who may want to relocate to the Netherlands?
Know yourself! This is the hardest thing. It is much easier to know the person next to you as compared to the reflexive capacity to know yourself. That is, this means to ask yourself: "How would I be in a country where I do not know the language, among strangers?" It is good for Romanians not to live in a Romanian ghetto. If you come here and have plans to settle down, then you must live among the Dutch, not only among Romanians.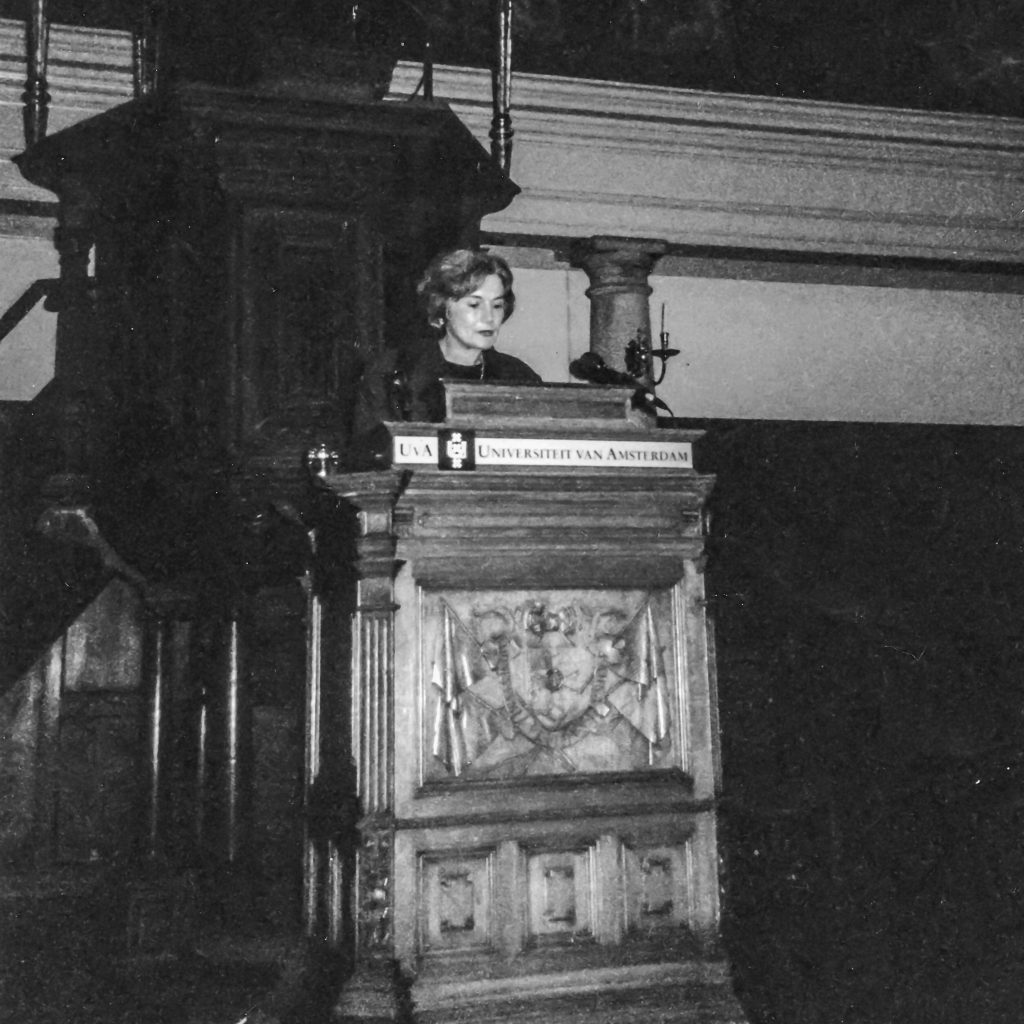 An interview by Claudia Marcu
Translation by Alina Mărginean
Photo-portrait by Cristian Călin –  www.cristiancalin.video
Photos from the personal archive, edited by Alexandru Matei