What brought you to the Netherlands?
It's the classic story. Or one of the classical versions. In 1992, during my last summer holiday as a student, I met a handsome Dutch guy in Costinești [n.b., seaside holiday resort in Romania] and we've been together ever since. I came to the Netherlands in 1994.
What was it like in the beginning?
It was nice because I came from a student club in Bucharest and joined another in Rotterdam. Beer, philosophy, "let's make the world better", jokes, the usual student life.
In Bucharest, I studied at the Institute of Civil Engineering, at the Faculty of Building Services. Here, I went to the Technical University in Delft and I studied architecture since, at the time, there wasn't yet a study program for the physics of building engineering. That was a niche in the Dutch technical field. It's a very beautiful profession and I'm still practicing it even today: I'm a building-physics engineer.
The first four university years – out of the five in total – that I did in Romania turned out to very useful. I was admitted to a doctoral degree. And I was also lucky because in Delft I came into contact with a remarkable professor who, as soon as he found out I was from Romania, immediately began the conversation by avowing his admiration for Romanians. His wife was also a university lecturer, she taught mathematics. Most of her Ph.D. students were from Romania, from around the Iași region. They both greatly admired the Romanian school of mathematics and physical sciences. After assessing my diploma and my five-year curriculum, he was very impressed. So, I could say I found myself in a really sweet spot. As such, the transition went really smoothly.
And then, in the beginning, I had the illusion that there were no differences between Bucharest and Rotterdam, but later I did bump into them. I became aware of them when my parents got ill, many years after having come here. Here, in the Netherlands, there are many options when it comes to caring for your parents while you're at work. I don't mean money, but solutions and people trained to do this. In Romania, there weren't any such organized services. The retirement homes had a very bad reputation.
What followed after that Ph.D. degree?
I joined the labor market pretty quickly. I must have sent about a dozen open cover letters because there were no vacancies. And one of the most prestigious engineering agencies in the Netherlands invited me to an interview. I got hired pretty quickly and I worked there for about a year and a half. Afterwards, I went to work for another agency, which I thought was more focused on the conceptual aspects and on design. I joined an extraordinary club there, there were only young people in the entire department. It was called Innovation and Study. I left there well over 18 years ago, but we're still friends, we still see each other at least once a year.
How did you learn the language?
Right after I came to the Netherlands, I decided together with my husband that "this is it, we're staying together". We moved from my husband's student house in his parents' home, where my in-laws welcomed me with great warmth. They're like surrogate parents to me. They're really special people, and not only his parents, but also his brother, his sister, the uncles and the aunts – who told me: "We're also your uncles and aunts. Call us when you need something and we'll help you."
We stayed at my husband's parents until we found our own home. That year was very special to me. His parents lived on an island near Rotterdam. Everything was wonderful, like paradise on earth. It was very beautiful, but what mattered most to me was the Dutch language course, which was really good. After we moved to Rotterdam, I enrolled in another course, but the quality level wasn't the same.
I must say I have a personal curiosity, but I think I'm not the only one: what was your role in renovating the famous Rijksmuseum (Royal National Museum or Art) in Amsterdam?
I now work at Rijksvastgoedbedrijf, the Central Government Real Estate Agency. This agency commissioned the museum renovation. To understand this better, we are the ones that market the project, but the technical aspects are organized by the agency's specialists. Back then, I was on the team of specialists that marketed the museum renovation project from a building-physics perspective, which is my field of expertise.
And I'll give you an example: Rijksmuseum is probably the number one historical monument of the Netherlands. On the one hand, it is a building that can't bear any humid air conditioning. On the other hand, the museum collection, which was made with organic materials, does need humid air conditioning because otherwise, it would dry up, while during the winter it would become moist, and then the same process would happen like in Sahara, everything would crumble into dust: the pigments in the paintings, the canvases, the leathers, etc. So there's a conflict: the collection needs humidity, but the building can't bear any because then there would be mold. That was a challenge for us. Then, there's the ultraviolet light that comes through the windows and causes loss of color in paintings. You've seen what happens to color photos that we leave in the sunlight. So, the glass for the museum windows was specially picked to stop the ultraviolet light, but at the same time to provide thermal insulation and also be secured. That was yet another challenge for our team.
How do you look back at all these years?
I do it with joy and satisfaction, but also with longing for my dear Romania and with gratitude for the country that gave me the opportunity to complete an extraordinary study program. I've never forgotten this.
As a matter of fact, I must say that I also had the opportunity to work directly with Romania, especially during the pre-EU accession period. It was a period of two years, when Romania was a priority country, so to say, and it received extra help to align its legislation with the European acquis, including regarding energy performance. I was asked, then, to join the Dutch Ministry team to help, together with the Romanian experts, to find the best way to implement the legislation.
I also did a few philanthropic projects. One of them is a children's foster home in Constanța (the institutional care center Little Rotterdam, ed.), for which I was asked to offer consultancy regarding the Romanian legislation, which the Dutch didn't know very well. I also did technical translations of certain specialized documents.
At the same time, I'm proud that I'm also Dutch. It's an open country, the people are straightforward, maybe their nature is not always the easiest, but they're cheerful, they're not dramatic like we, Romanians, often are. They like to keep things simple and they're ethical people.
Since you work in such a Dutch environment, in a governmental agency, perhaps you can tell us how the working relationships are.
The Dutch are very relaxed at work. There is a hierarchy, no doubt, but in the day-to-day interaction, the attitude is egalitarian. It doesn't matter if one person is a director and the other a simple engineer, the relationships are pretty straightforward, there are no hurdles.
What does success mean to you?
Success resides not only in reaching a certain status, but also, when walking down the street and passing by a wonderful building, in knowing that it's also thanks to your daily work that the building still exists. It brings me infinite satisfaction to tell my friends or acquaintances: "If you haven't been to the Rijksmuseum yet, do so, it's very beautiful." Success happens when your work is your passion.
What kind of a relationship do you have with the Romanian community in the Netherlands?
I interact with many Romanians and I even seek them. And I've noticed in the past 10-15 years that the Embassy is also investing considerable effort into bringing together the Romanians living in the Netherlands. That's how I got to know more and more Romanians. And I don't miss almost any opportunity offered by the Embassy or the cultural platform Carmen Sylva (the Cultural Foundation Carmen Sylva in Rotterdam, ed.). I have more and more Romanian friends and it's extraordinary to hear your mother tongue, the proverbs, even the Romanian jokes, that fantastic Romanian humor. And I'm yet again very lucky: my husband, a true-born Dutchman, speaks Romanian almost perfectly and he understands our humor.
What would you advise a Romanian who would like to come to the Netherlands now?
To come without preconceptions and without fear. Without fear of the Dutch language, which seems difficult, but it isn't really so, its grammar is extremely easy, compared to the Romanian one. No preconceptions, because people are the same everywhere. The same good and bad things are to be found wherever you go. I had the opportunity to travel to several countries and this is my conclusion. So, drop the preconceptions and learn the language as soon as possible.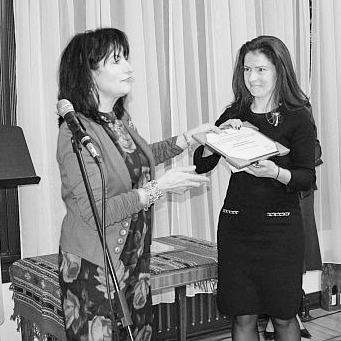 An interview by Claudia Marcu
Translation by Mihaela Nita
photos from the personal archive, edited by Alexandru Matei
Photo-portrait by Cristian Călin –  www.cristiancalin.video