How did you end up in the Netherlands?
Initially, I arrived here in August 2010, as a student. Prior to this, however, I was part of a two-week exchange program with students from the HAN University of Applied Sciences, in collaboration with the West University of Timisoara. During those weeks, I became hooked on the spirit and taste of Holland, I got familiar even with the rainy weather, but I loved it. So, after I graduated university in Romania, it was high time for me to choose where I wanted to continue. I studied management, logistics specialization, so when I had to choose between UK, Denmark and the Netherlands, I followed my heart and decided to leave for Rotterdam.
At the beginning, I needed a one-year pre-master studies in economics and business, so as to align and extend my know-how on math, finance, applied statistics, and microeconomics. I did my master at the Erasmus School of Economics, under a program on urban economics and logistics (harbours and transportation) which was my initial intention actually. This was based on designing policies for transportation and regional development. And, look, it's been now eight years since then and I continue to be a resident in Holland.
How was the beginning?
The beginning was double-sided, meaning that it was rather difficult for me. First, I didn't perceive my separation from my family as an easy thing to do, especially in a country where people seemed to me very cold. But, due to a very good girl friend of mine from the HAN University times, I managed to stay at her place for a couple of days and that made it somewhat easier.
Then, I managed to find a room to rent from an old and very ladylike woman. So, it all started to become more comfortable, not the house itself – I had a very small room – but the advantage I got: I had the chance to interact, on a daily basis, with a native Dutch who would become my mentor. If I had an issue, I could discuss it immediately, at home, with my landlady. For instance: my registration at the city hall, how to buy a bike, how to apply for a language course. I didn't know what I had to do, I just asked her, and everything got solved. She was like an encyclopedia for me.
What did you learn from your landlady?
She taught me to be direct, to always tell what I want, especially in my interactions with the Dutch public institutions. She taught me to persevere and focus on what I want to achieve, without being aggressive, master the tone of my voice, and, when on the phone, ask for the name of the person at the other end of the line so that, if I ever have to call back, I would know who to address. In Romania, people have a certain tendency to have arguments, to get in a tantrum, so to say. I have learned to trust myself because if you don't show your self-confidence, the other person will take advantage of the situation and reap all the benefits.
One of the things that caught my attention – I cannot say I learned it, quite the opposite, I hated it – is micro-management. She was very focused on any kind of savings. For instance: water should not be on for more than a minute, clothes should be washed after midnight, you only need to use one cap of detergent and nothing more. At a certain moment, our whole conversation reached, in a very diplomatic manner, an agreement: she would be the one to do the washing, cleaning, and do the dishes. In other words, she was afraid I would consume too much. Conclusion: I didn't like the system and started to hate it.
How was university?
University was great. In my pre-master year I was part of an international group. We had few Dutch colleagues, who, normally, had their own little tribe and wouldn't allow others in. This wasn't a problem for me, the international group was excellent.
For the rest, my contact with professors was really good but it took some time until I got used to their educational system. In Romania, I was an above average student, I used to score a 10 much easier than here. Here, a 10 is for God, 9 for the professor, and 8 is the maximum grade you can fight for. At a certain point in time, I discovered that the main goal of many of my colleagues was to get a 5.5 so that they pass their exams. After that, I discovered that if you learn for 5.5, it is possible to fail your exam and you have to train better. We had a great group of Romanians, Bulgarians, and other Eastern Europeans. My first exams were also the toughest: math, finance, statistics. Initially, we prepared some certificates to prove that we had already completed those studies in Romania and, thus, we would not have to take those exams again. But, eventually, I realized it was useless and those certificates were good for nothing. The exams were meant to help me. The moment I understood that the educational system is focused on my interest so as to make me develop personally and professionally – and that was my exact goal – I started to play for keeps and be grateful for this system, see it as a plus.
I have to say that my passion for art counted as well when I chose the Netherlands. When I was in primary school, I wanted extremely much to see a Rembrandt. And I was overwhelmed when I finally visited Rijksmuseum and stood in front of one of his paintings. In fact, choosing the topic for my master thesis was an act of the heart. I combined a topic of urban development with art, focused on a bad neighbourhood of Rotterdam, confronted with a high criminality rate. I helped transform this bad neighbourhood into a high-end area, using art as a catalyst for social integration and cohesion as well as economic development. I cannot say with full conviction that I had a direct impact but, after a few months from submitting my thesis, the professor who coordinated my work told me that that neighbourhood was included in the Lonely Planet guide (one of the largest trip advisors) in the top high-end locations (worth paying a visit) in Europe.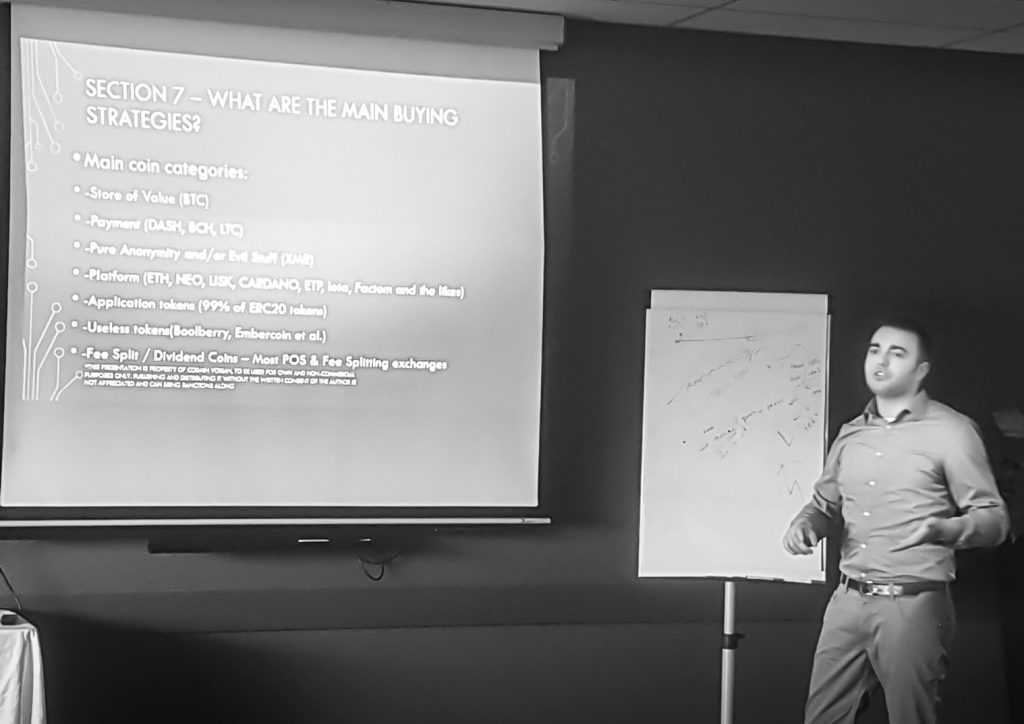 You've mentioned, earlier, Dutch classes. When have you learned the language?
At school, courses were in English so, for two years, I didn't really manage to practice words in Dutch. At home, my landlady had a boyfriend whom she addressed in English, so English came in handy also when we talked to one another. But I applied for an NT2 course (Staatsexamen Nederlands als tweede taal, a standard formal certification exam that grants anyone a non-native Dutch language certification). My girlfriend – the former one – told me that it is highly important to learn the language if you want to stay here for the long term.
The second day after I bought my bike, I started preparation to apply to those language courses. I have to say that, to me, those courses had a very slow tempo versus my expectations. I consider that interval as somewhat passive. But I managed to learn the language, eventually, and I can say I started to speak Dutch already by the end of my first year in the Netherlands, when I met a girlfriend, half Romanian, half Dutch. I took the courage to practice Dutch with her, without being afraid of making mistakes. I cannot say I know Dutch to perfection now, that I can write an article for a newspaper, but I can have a fluent conversation and I can use Dutch at work.
How do you feel in the society you live in?
There are good things and there are bad things. I try not to generalize and deal with every situation, separately.
I like Dutch society because it is much more organized and, every time I return from Romania, I'm happy that I live here. The best confirmation of this feeling is, for example, when I have to go to the city hall to apply for a renewal of my residence permit in the Netherlands as compared to the renewal of my ID in Romania. The difference is striking, from the moment you enter the building till the moment you exit it, with a smile from ear to ear versus a pissed off mood.
There are, for sure, things I haven't yet bumped into. Dutch people are open only up to a certain limit, whereas we are warm people, easy to interact with. Dutch people need time to open up and get closer. I am an open person, sociable, joyful and there are moments when I am confronted with the defensive attitude of Dutch people who keep you at distance. They are friendly, but they take their time until they let you in their souls.
How do you look upon all these years spent in the Netherlands?
I look back with a lot of pleasure although I've been through thick and thin, having to start everything all over. While I was a student, I had no choice and I had to accept also less inviting jobs so as to be able to cover the costs of my studies. I worked mostly in restaurants, doing the dishes. It wasn't always pleasant, but I had a goal to aspire to and reach, which I did. So, I'm happy I didn't give up when it was tough or when other colleagues of mine stopped their master studies and went back home, to their comfort zone.
I knew it that, if I graduate, other doors would open for me, which did happen. And I knew that this would continue to happen in the future. This is a society full of opportunities that you need to know how to benefit from. Dutch society triggered in me this hunger to do and want more and have the confidence that I can make it. I've seen this positive side all the time even when I ran into bottlenecks.
What is success to you?
Most times, success is seen as something material, as in financial terms. This is how I thought in my student years. But the time spent in the Netherlands has taught me that success is about what you offer and what you try to change in the hearts of other people. For me, success is about how much I can help anyone next to me. This satisfaction is greater than financial gains. This is what my best friends here have also taught me. It was also my luck that I ran into the right people.
I always try this exercise: if I were not here tomorrow, what would people tell about me? My wish is that people have good memories about me. I'd like to see happy, positive people. In an ocean of negativity and issues – I think that our current disorder is most likely triggered by a negative way of thinking – it is important for me to offer a kind thought, a smile, share what I know with the person next to me, give my help.
How are you related with the Romanian expat community in the Netherlands?
I try to be close to this community, be involved, act as a linking pin. Currently, I am more involved given that I am a founding member of the Romanian Business Community (RBC, a project of the ROMPRO foundation), whose goal is to unite the Romanian expats in the Netherlands and make their activities more efficient, as well as share know-how and information. My slogan, which is a Romanian saying that I tend to overuse lately, is "stronger together". We, Romanians, can do great things, but only if we work together and help each other.
I'm also working with cryptocurrency and stock-exchange activities. I wanted to share my knowledge with other people, so I have offered my consultancy in this domain to those interested in the topic.
I've seen you're also involved in charity work.
Yes, sure. Most recently, I have joined the Maastricht marathon organized by the Wanna Help Foundation for abandoned children from Bacău. I have a confession to make: I don't run for myself, I gave this up a long time ago, but a noble goal motivates me. I'd like to get involved in such charity work also in the future, to do fundraising for projects to be run in Romania. I try to get others to help me.
What's your advice to a Romanian who'd like to move to the Netherlands?
I think that, first of all, they need to learn the language as soon as possible. It is important to know how to buy bread in a shop in their native language and learn their Dutch habits. It is just as important not to generalize, not to form an opinion about the Dutch society based on a single situation. Come here with a clear mind and discover how people are. Always start with a positive idea in mind. And buy a bike. It helps getting integrated!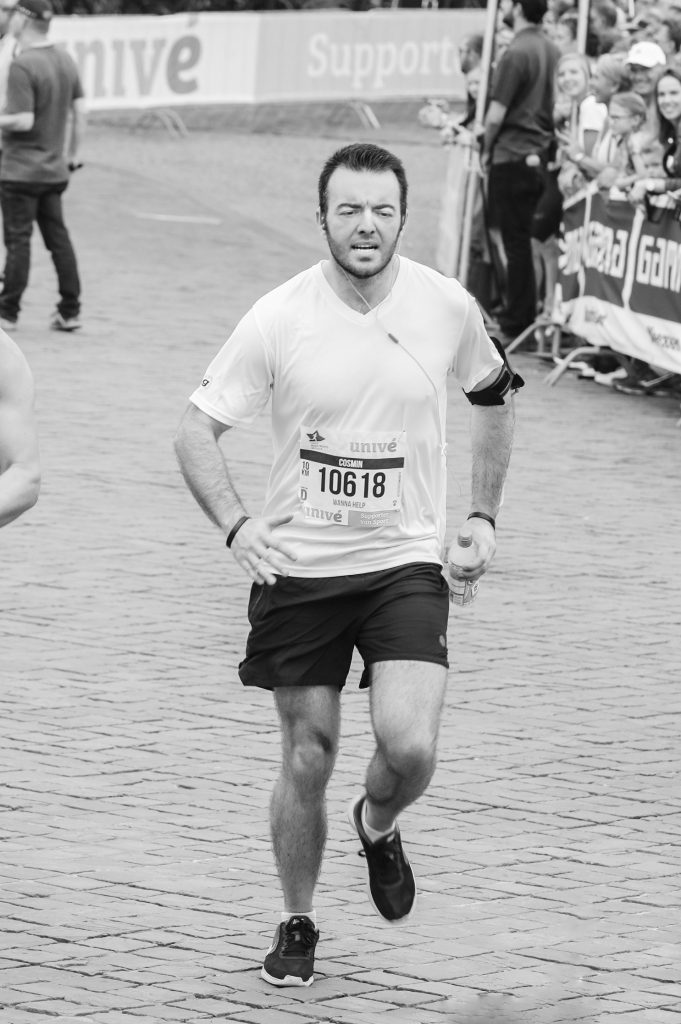 An interview by Claudia Marcu
Translation by Alina Mărginean, proof-reading by Alexandru Iosup
Photo-portrait by Cristian Călin –  www.cristiancalin.video
Photos from the personal archive, edited by Alexandru Matei